Award-winning service, five-star cuisine and a premium cruising experience are some of the top reasons why the Proud Mary continues to entertain guests up and down the Murray River week-after-week.
These same qualities have also contributed to three consecutive, highly commended award wins, earning the Proud Mary an induction into the South Australian Tourism Hall of Fame.
That said, you can't leave this cruise to the imagination – it's one you need to experience for yourself.
With rooms to sleep only 36 guests, the personalised boutique river boat is far from a typical passenger cruise liner and certainly unlike an ocean cruise experience – think more intimate and accommodating, in an atmosphere where you can be your relaxed self and connect with like-minded people.
But just because it's small, doesn't mean you will be packed in like sardines! You can quite easily enjoy a 2 or 5-night journey up the river with plenty of comfort and breathing room inside of this 3 deck floating hotel, which offers arguably - some of the best views in the world!
With the magic of the Murray River ready to put on a spectacle for you at any moment, a couple nights or weekend away with the Proud Mary should be on your bucket-list this year.
Here's a few more reasons why…
---
The itineraries
Your next river escape doesn't need months of planning. The Proud Mary has two carefully curated itineraries that allows you to cultivate unforgettable memories of your time on our stretch of the Murray River, from Murray Bridge – all the way up to Blanchetown.
With a maximum of 36 passengers, it won't take long to get on a first-name basis (or even nickname) with the other passengers and staff on your cruise. This allows you to make real connections with like-minded travellers who will be just as keen as you to experience some of the best parts of Australia's largest waterway, on any day of the year.
If you've never been on a river cruise before, or only have a weekend away to spare, the 2-night Murray River Discovery Cruise is a good start.
As you drift your way up river there will be opportunities for adventure. You'll get to putt through secluded lagoons and wetlands in a smaller vessel, discover our millions-of-years-old towering ochre cliffs, enjoy a bush barbeque around a campfire with live music, plus have the option to explore Mannum's township (including the historic Mannum Dock Museum and a guided bushwalk through Mannum Waterfalls).
Meanwhile, the 5-night Murray River Indulgence Cruise adds on a visit to the Costa Brothers Almond Farm, Ngaut Ngaut Aboriginal Site, plus the five-course Captain's Dinner where you'll be spoiled with a gastronomical affair and mingle dressed in your finest attire.
And without even realising it, you'll be supporting local regional businesses each time you step off the boat to explore our riverside towns.
The Proud Mary has built meaningful relationships with local tour guides and operators (and even have an ecologist in their crew) to ensure you get the best nature-based experiences and informative commentary on local ecology and history from people who know the area like the back of their hand.
If you've got a camera (or a smartphone) we suggest you bring it along and get ready to snap away. The wildlife and intriguing landscapes will seriously captivate you!
---
Make yourself at home
We really did mean it when we said it's like a mini floating hotel – but better!
There are 18 spacious cabins spread across the 3 deck levels, each with a front-row view of the river. Your stylish ensuite cabin will be well-equipped with all the essentials needed to enjoy a few days relaxing on board.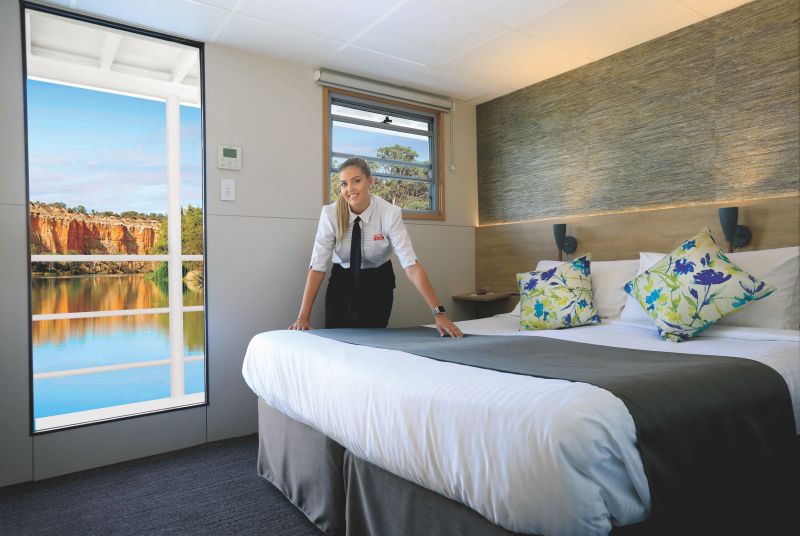 Each morning you can wake up to the sound of water gently lapping by, the birdlife chirping and the golden rays effortlessly shining down onto the river landscape passing by your cabin window.
And just like a hotel, you'll have the Proud Mary crew always ready to tend to your needs. It's easy to tell how passionate they are about their job. Most have spent a large part of their life on or near the water, and have an excellent grasp of the river's history, geography, wildlife and ecosystem.
---
Lunch served with a view
The Proud Mary's popular 2-hour luncheon cruises have returned, providing a relaxing (and tasty) way to start or end the working week.
Disembark from Mannum's Mary Ann Reserve on a Monday and you'll be welcomed with smiling faces offering up a warm cuppa and freshly-baked scones (don't skip the jam and cream!). The highly skilled chefs will be busy preparing your 2-course lunch while you relax in your seat and watch the river landscape drift by.
Or for a low-key buffet lunch, look at hopping aboard the Friday lunch cruise (departing Woodlane Reserve in Mypolonga). You can choose from a selection of cold meats (ham, prawns, turkey and chicken), five different fresh salads, a fruit platter and warm baked rolls.
---
Now that you're ready to take on a refreshing river cruise, all you have to do now is decide on a date and book it in! The Proud Mary team can't wait to meet you.