Once you've fuelled up at Mojos, it's time to choose your challenge level. If high-adrenaline action is your thing, Kinchina Conservation Park just on the edge of Murray Bridge, nearby Monarto, delivers.
It's fast becoming a destination of choice for SA mountain bikers, with a good selection of intermediate and advanced trails to test your off-road skills. Bushwalkers have been coming here for years too – in fact, Kinchina became a hotspot for nature and adventure lovers during 2020 because of its great mix of trails that take you far away from civilisation (while still being easy to access).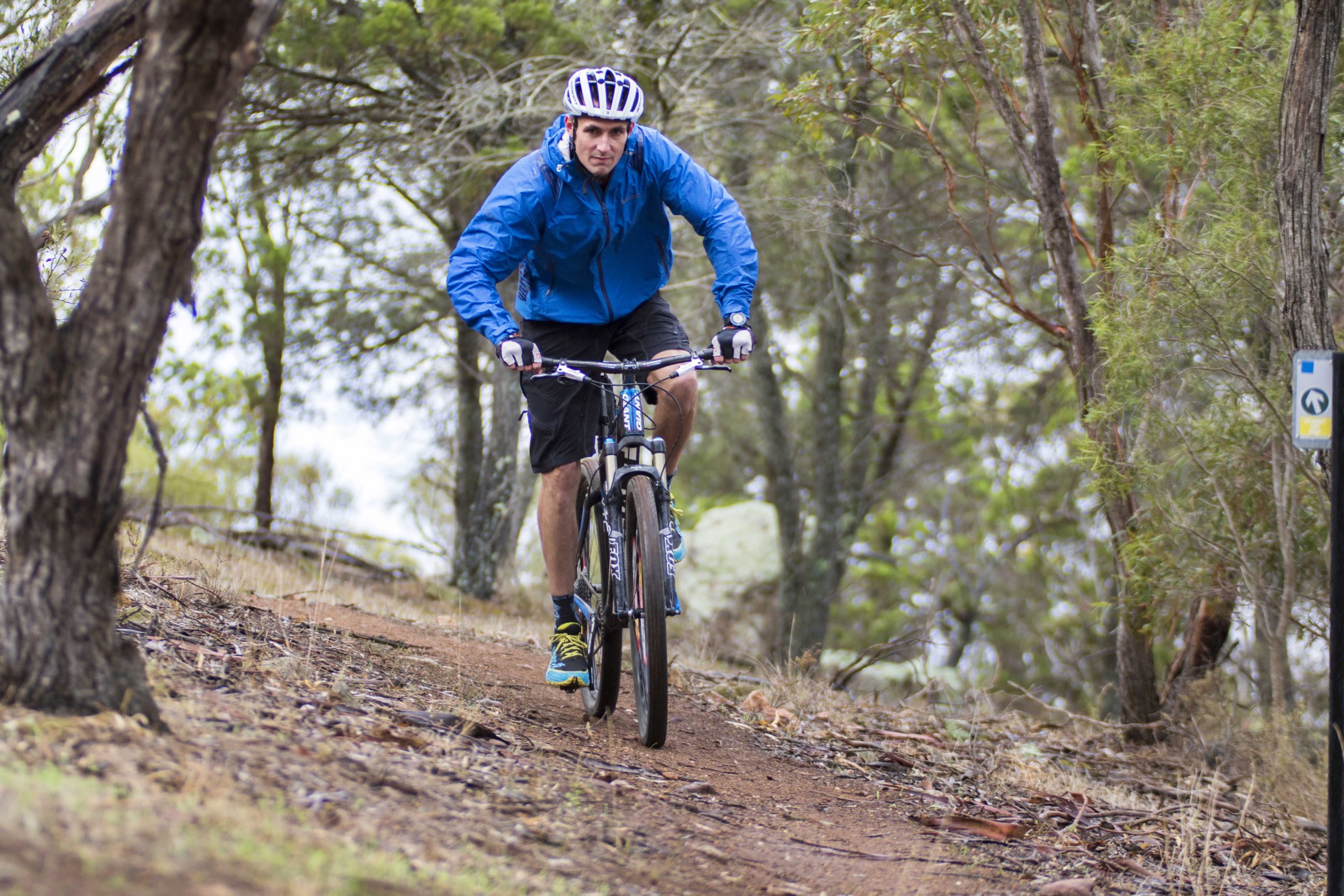 There's something here to suit all fitness levels, from beginners to endurance athletes – and the little ones love it, as they explore the tepees and rock formations already created by previous families along the trail (and if you're quiet enough, you might even spot some friendly kangaroos and birdlife too!).
Closer to town, the Murray Bridge Discovery Trail and Murray Coorong Trail will take you past some of Murray Bridge's rich history and best environmental features. There are plenty of other smaller trails to explore, in lesser known (but equally beautiful) locations such as the Casuarina Walk Reserve, Hume Reserve and Rocky Gully Wetlands.

Prefer to be out on the water? While the weather is cooler, many days in this part of the region still record sunny daytime temperatures in the low to mid 20s. The Murray Bridge Water Discovery Trail is perfect for paddling – it's just over 10km one-way but there are multiple launch sites so you can also complete smaller sections.
The Lavender Federation Trail is one of the best hikes through the western end of the region, taking walkers from the river environment at its start at Murray Bridge, through the secluded bush of the Murraylands and into the hills of the eastern Mount Lofty Ranges.
Its sister trail, the Murray to Clare Lavender Cycling Trail follows a similar route for cyclists looking for a longer ride, or an adventure to explore in sections.
The cooler months are well-suited to longer trail adventures, giving you plenty of daylight to ride, hike, run, climb, kayak and explore without the risk of summer heat. It's also one of the most beautiful times to head bush – the autumn rains transform the environment.
For a truly unique trail adventure, base yourself at Rabbiter's Hut Bed & Breakfast near Tungkillo. The beautifully-restored 3-bedroom, self-contained cottage is located on a farm 3km from the property's homestead. The Lavender Federation Trail runs through the property, making it an ideal starting or finishing point for your trek. The popular Kidman Trail, for horse riders, cyclists and hikers, also runs through the property. For walkers, owners Annette and Bill offer a drop off/pick up service too.
Unwind after a long day's exploration with a hearty meal – you can choose to have a menu cooked for you, or try your hand at a camp oven roast with their range of packages. Then kick back and relax with a local wine or two by the warmth of a bonfire, or snuggle up indoors in front of your own wood fire.
Make your next escape simple, beautiful and outdoors – we can't wait to see you.