≈ Walk: (Or cycle) from the River's edge to the Murray Mouth and beach
≈ See: The Murray River, Murray Mouth, Hindmarsh Island Bridge, ocean's edge, Coorong, barrage, sandhills, wildlife, sail boats, surfers, more.
≈ Coffee: Grab your takeaways from Hector's on the Wharf, the Wharf Barrel Shed, Bombora on the River or Kuti Shack
≈ Drive: 60 minutes from tollgate
The beauty of our lower Murray River environment, is its diversity. From Goolwa and the Murray Mouth, you get both the river and beach lifestyle – so it's perfect for those who can't decide which they love more!
If you've never been to Goolwa, one of the main attractions is the wharf precinct area. Here you have a nice blend of indoor and outdoor restaurant dining and takeaway options. We'd recommend testing out Hector's On the Wharf or the Wharf Barrel Shed, and on your walk you can stop and top up at Bombora on the River or Kuti Shack along the way.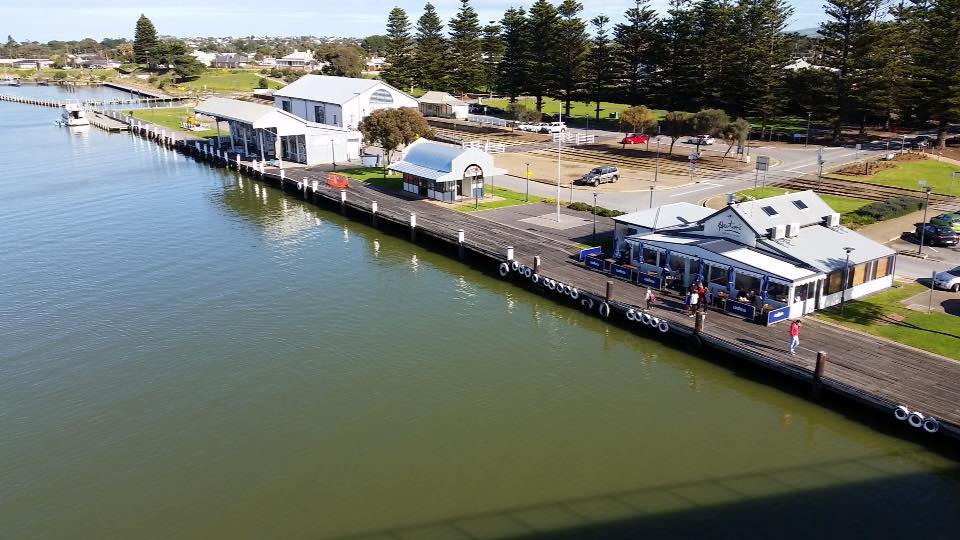 There's always a great atmosphere being right on the water. So while you're hanging around the area, eating brekky or having a little wander down the wharf, expect views across to the Hindmarsh Island bridge, native birdlife their way to the barrage, sailboats, avid kayakers, and LOTS of people walking an cycling. Seriously, there's always people enjoying the outdoor space down here.
When it's time for your crew to get up and moving, the Encounter Bikeway (a shared path for cycling, dog walking, and jogging) links the Goolwa River to the beach. From the Goolwa end, you can begin at the top from Laffin Point and journey along the riverside past the marina and the wharf. Or begin from the wharf and head towards the yacht club on Barrage Road. If you're really keen, the walk doesn't have to end there – keep going until you reach the Goolwa Barrage (you can also walk across the barrage too and watch the birds trying to catch fish – it's a feeding frenzy down there!).
Now here's one for the beach lovers who can't wait to feel the sand between their toes. From the Goolwa Barrage you'll find a shortcut through the dunes which takes you over the hill and opens up to some magnificent views of the Murray Mouth and Goolwa beach. Here you can walk as far as your legs can take you.
Alternatively, get in the car and head over to Sugars Beach on Hindmarsh Island. You can grab an egg and bacon roll and coffee from the , and wander over to the Murray Mouth lookout. (These guys also have some of the best fish and chips in the world, so best time your walk around lunch time!)