Further south along the River, you'll find foodie legends Casey and Joel Cousins who deliver exceptional service from Bombora on the River. Their casual atmosphere, spectacular waterfront location and attention to detail on fresh foods has seen them become a local favourite. A summer favourite amongst diners is Joel's Goolwa Superbowl – a Bouillabaisse style soup packed with fresh fish, Goolwa cockles, scallops, mussels and prawns. But don't fear if they're booked out, just next door is the Goolwa Aquatic Club which serves up pub-style meals against a backdrop of what it arguably Goolwa's best 180 degree views of the River Murray – where you can see south to the barrages and north to the Hindmarsh Island bridge! (Oh – and for those with kids, it's just alonside the famous Bristow Smith Nature Play Reserve – pictured below).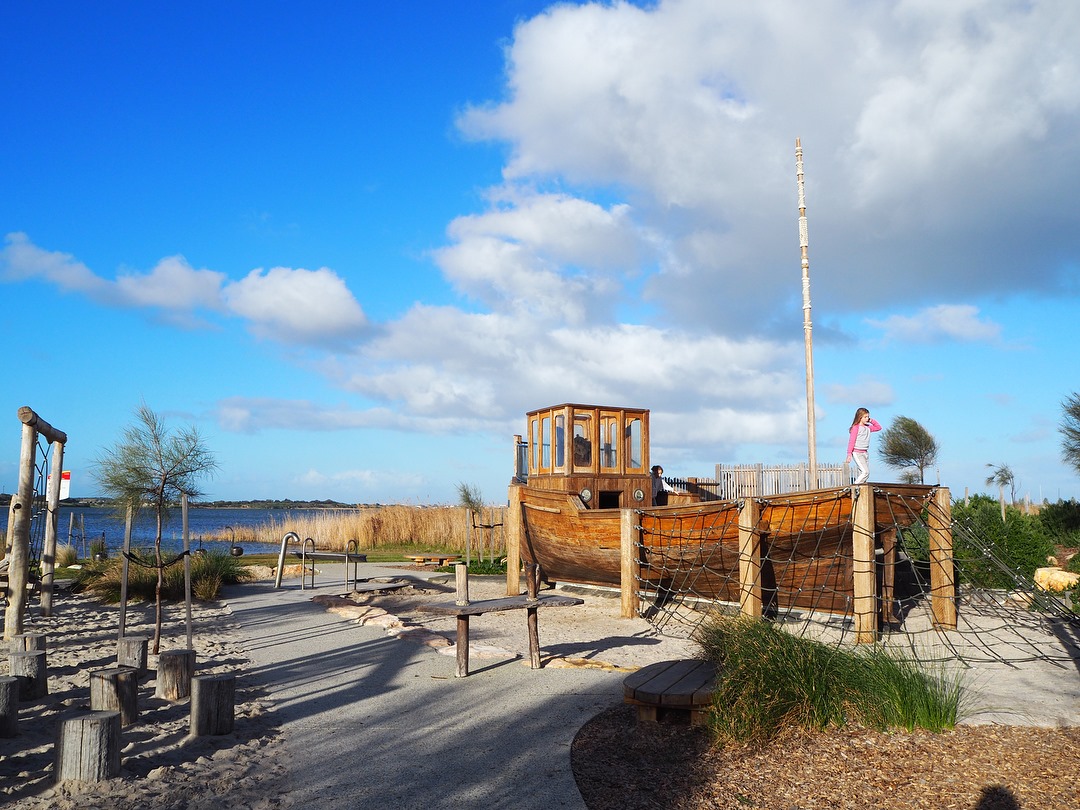 If you're on a road trip, then you should also stop at the Coorong Café – a quirky little van set up right on the edge of Sugars Beach, on Hindmarsh Island. With views towards the Murray Mouth, this casual café is known to locals as having the best fish and chips in the region, so it's definitely worth a peek (and make sure you take your kayak or dinghy to spend some time on the water at Sugars, it's a unique little sanctuary that opens up in to the ocean and like nothing else you've seen before, and if you've got the gear, you can even cast a line in yourself).
The newest venture on the block though is Kuti Shack, a cool little café based right on the edge of Goolwa Beach (and alongside the 4WD entry for a cruise along the beach and down to the Murray Mouth – check the tides before you go!). Operated by three locals and in partnership with the Goolwa PipiCo, the Kuti Shack menu will feature local seafood, Ngarrindjeri indigenous ingredients and hero the local pipis in various dishes throughout the seasons.
So by now, you've probably got a week's itinerary full of food and wine, but the outdoor activity is worth a mention too. A couple of our favourite tours are those that take you to places in the Coorong that you never knew existed.
If you're into paddling and fitness, then book a tour with the team from Canoe the Coorong and paddle through places (reminiscent of Storm Boy country) that you can't access by boat or road. The local team who run these tours will take you to their favourite spots, show you how to collect and cook up pipis, meet the local wildlife and run through pristine sandhills.
If you're less inclined to expend yourself, then catch a lift with the crew from Spirit of the Coorong or Coorong Cruises. Both of those boat cruises offer a range of packages to suit all ages and timeframes, with everything from a 90-minute tour from the Goolwa wharf to the mouth, all the way through to extended multi-day tours heading up River.
There's a lot to taste, explore and discover down this way. So book your holiday and let's get started.