We have the best stars in the world.
Ok – so technically, they're not OUR stars, but from our backyard, you can see them clearer than possibly anywhere else in the world.
So when was the last time you looked to the stars and marvelled at the magic views of our universe?
Our unique night skies have attracted attention from some of the world's most renowned star gazers – and now the River Murray International Dark Sky Reserve is officially the first of its kind in Australia (and one of only 15 in the world!). A small campsite near Mannum, named Meldanda, has some of the darkest skies ever measured by astronomers, and the local Mid Murray Landcare group (with a few other supporters) have achieved formal accreditation by the International Dark Sky Association.
So while there's plenty of people who come to our region for its untouched beauty during the daylight hours, they'll now be coming to look at our unlit skies after the kids are in bed.
This is rare anywhere in the world. However, as environments change and artificial light dominates the night in most places, it's here in our Murray River Lakes and Coorong region (only an hour from Adelaide) that boasts some of the most incredible views to the stars – and we want to make sure it stays this way.
Night sky darkness is measured at a level of between 0–22, with 22 being total the highest reading we have yet for darkness. Places closest to that are the best for viewing the night sky. Recent measurements in River Murray International Dark Sky Reserve came in at 21.97 – darker than any of the many accredited regions around the world!
The River Murray International Dark Sky Reserve will protect and preserve this rural, non-polluted and natural dark region from light pollution for current and future generations.
And of course, our locals already know this. Ahem, we've been enjoying unfettered access to the night sky in all its glory since … well, since forever.
Just last year while on our road to being accredited, crews from Ten's The Project came out to film a feature on our dark skies, fetching over 40,000 views online, and millions of people when it went live on air – see a behind-the-scenes look in the photo below. During this time, news of our incredible dark skies also been featured in The Australian newspaper, ABC and lifestyle bloggers across the world.
Now, the rest of Australia AND the world is paying attention to us with our accreditation headlining various media platforms like, Channel 10 Adelaide, 9 News National, The Advertiser, The Lead SA, and many more.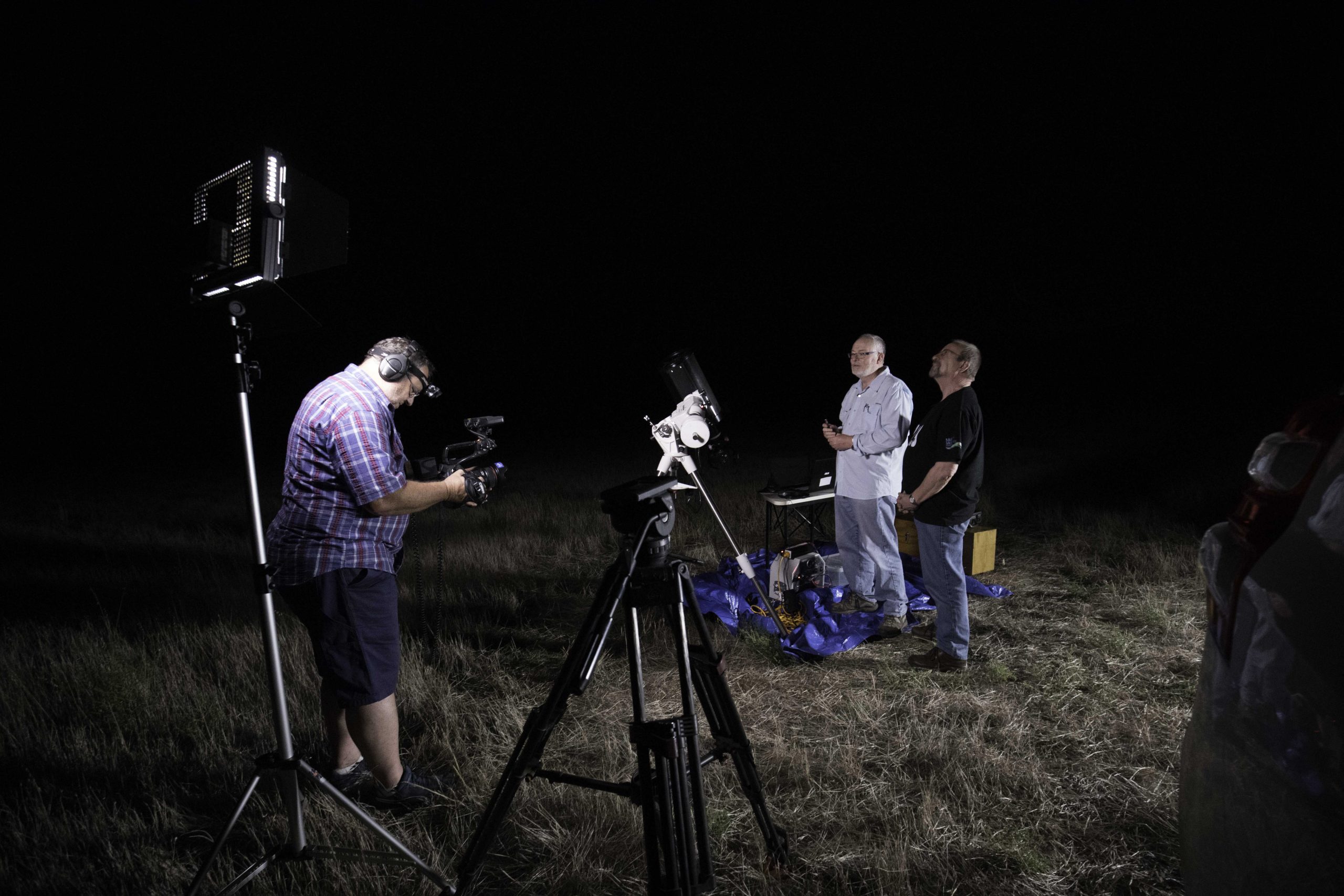 So if you're an amateur astronomer or budding photographer, perhaps it's time to pop your telescopes, tent and DSLR in the car, and come for a drive. 
If you head towards Mannum, there's plenty of places to stay for the weekend, and my friend Dave Hartley (local photographer, owner of River Shack Rentals and all round good guy) can help you find some riverside accommodation. If you're interested in capturing your time here, bring you camera and ask him to take you out for a photography tour of the dark skies.
For those that like to travel in packs, start your astronomical adventure in style with Juggle House Experiences' three-tiered Dark Sky tour packages. Meet the stars in our backyard in their Gold Stars Sunset Dinner Tour and visit some of the major attractions in the area – Big Bend cliffs, Ngaut Ngaut Conservation Park, and more. If that sounds good but you want to stay longer and get the whole nightime experience then wake up for more exploring the next day, choose the Platinum Stars package. If you're short on time but NEEED to meet our starry sky, the Quick Silver Stars Cheese and Bubbles tour is for you (with the option to explore the Mannum Waterfalls).
If an authentic outdoor bush experience is what you're craving, the team at Big Bend By Night have you covered with their new Dark Sky Tour. You'll be provided binoculars and telescopes (available at select sites), undercover sleeping area (BYO swag), toilets and a bush tucker breakfast in the morning. Just hop in their comfortable open-top carts and be ushered to the countryside and get your stargazing on!
Or – take some extra time off and make a proper trip of it – why not spend the week exploring all of the magic during the daylight hours too, we've got more too see than you could ever imagine.
Come for a drive, turn off your lights, and LOOK UP!
Find out more about the River Murray Dark Sky Reserve project here.