The main street is the best attraction. We suggest you start at 'Shuffles' and head up to the 'Big Ram'.
Shuffles, for those who aren't familiar, is the new art installation, made up of six cylindrical steel screens that look like heads of wheat 'shuffling' in the wind. Located at the southern end of the main street, the sheer size of the Karoonda Shuffles is awe-inspiring, the more you walk or drive around the artwork, the more real it becomes. Recently lit, the tribute to one of the major industries in the area – wheat – is now even better at night, with the green gum trees also on display, making for an amazing tourist attraction.
Once you've finished taking in the shuffles, head up the walkway to find the Big Ram – which is exactly that, a statue of a big ram. Another tribute to its rich livestock history, a photo with the Big Ram is a must.
Off to the playground next, from the farmyard to outer space. Based on the Karoonda Meteorite, the playground boasts a three-level summit tower, complete with 'black hole' slides, a 'space tether' flying fox, orbiting carousel and much more.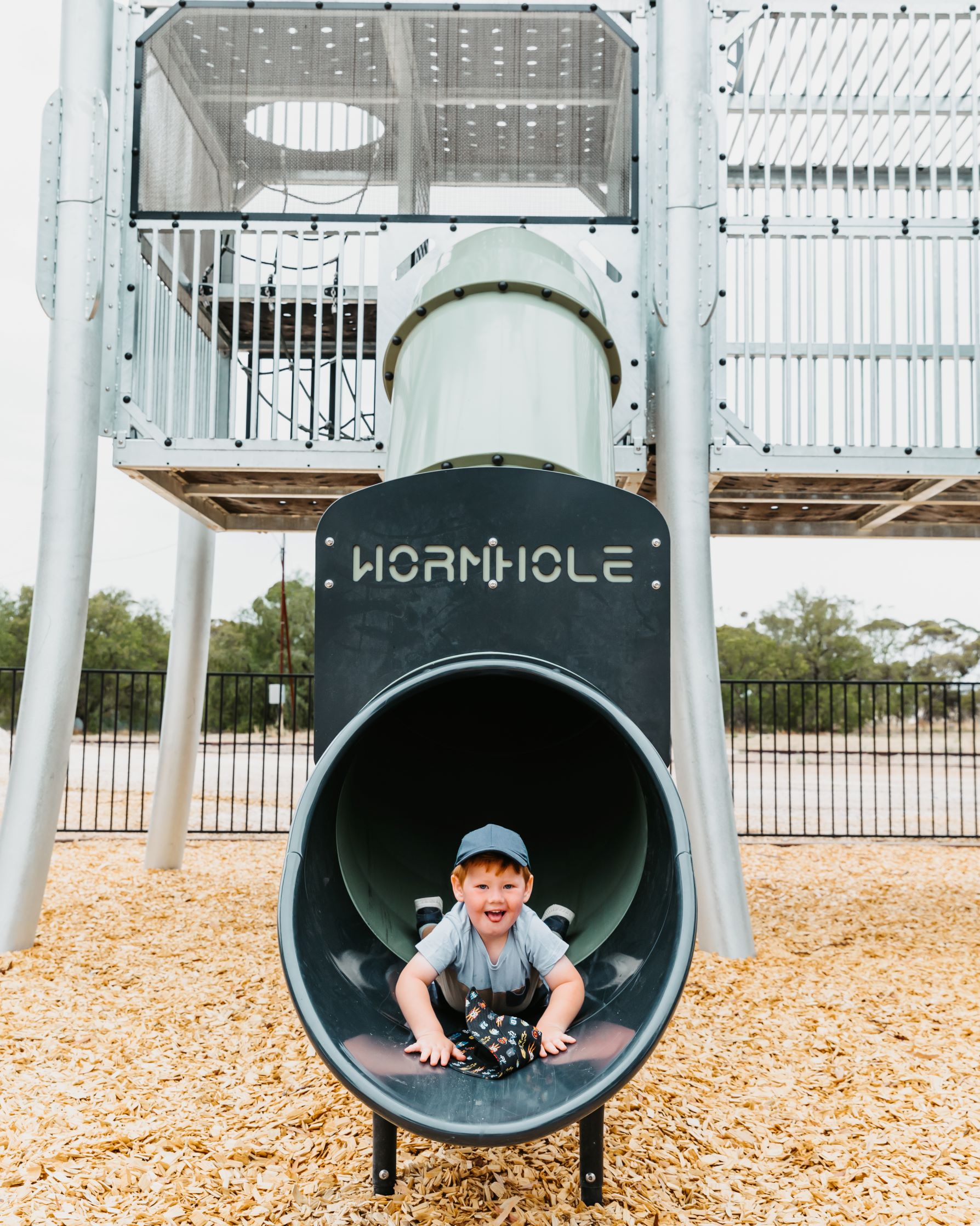 By now you'll have worked up a thirst. Stop in at Cathie's Café, the best family-friendly place to eat in town – just ask any of the locals. Well-known for its milkshakes, coffee, and frappes. You could also drop-in to the Karoonda Community Craft Shop, with lots of arts, crafts and knick-knicks for sale, all made by locals.
Next is the silos, which aren't just any silos – part of the Australian Silo Art Trail, these aren't to be missed. Combining a unique mix of a large-scale mural by day, and colourful art projections by night, this is the perfect depiction of Karoonda's rural lifestyle. Painted by Australian street artist Heesco, animals are the key feature of this mural, starring locals Diamond the sheep and Whiskey the Kelpie. The night projections are an ever-changing digital display, with a mix of SA artists having their art splashed across the huge space every month of the year.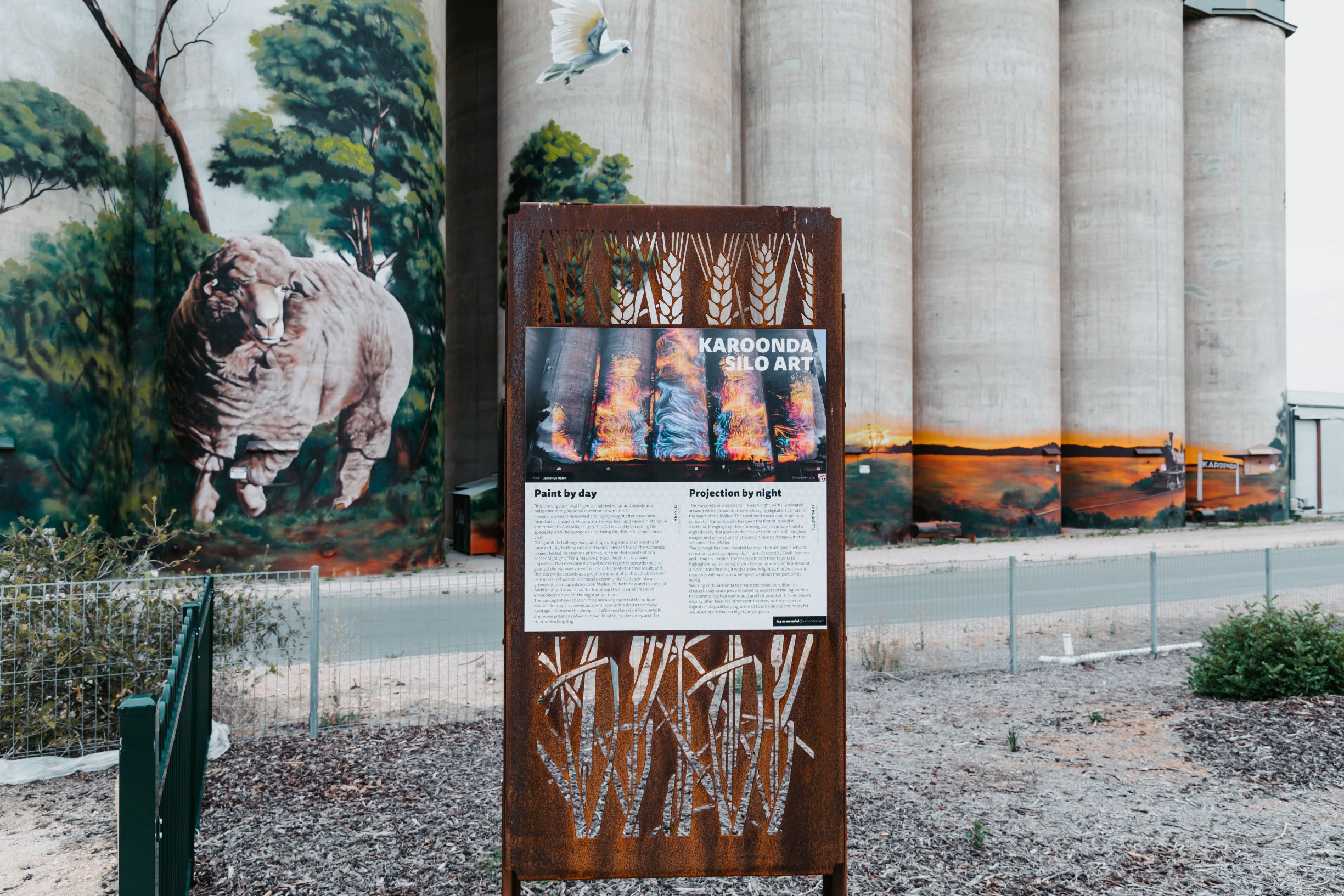 Lastly, the recently renovated Pioneer Park, with a display a historical items and buildings, including a church, old machinery, and the kids' favourite – trains.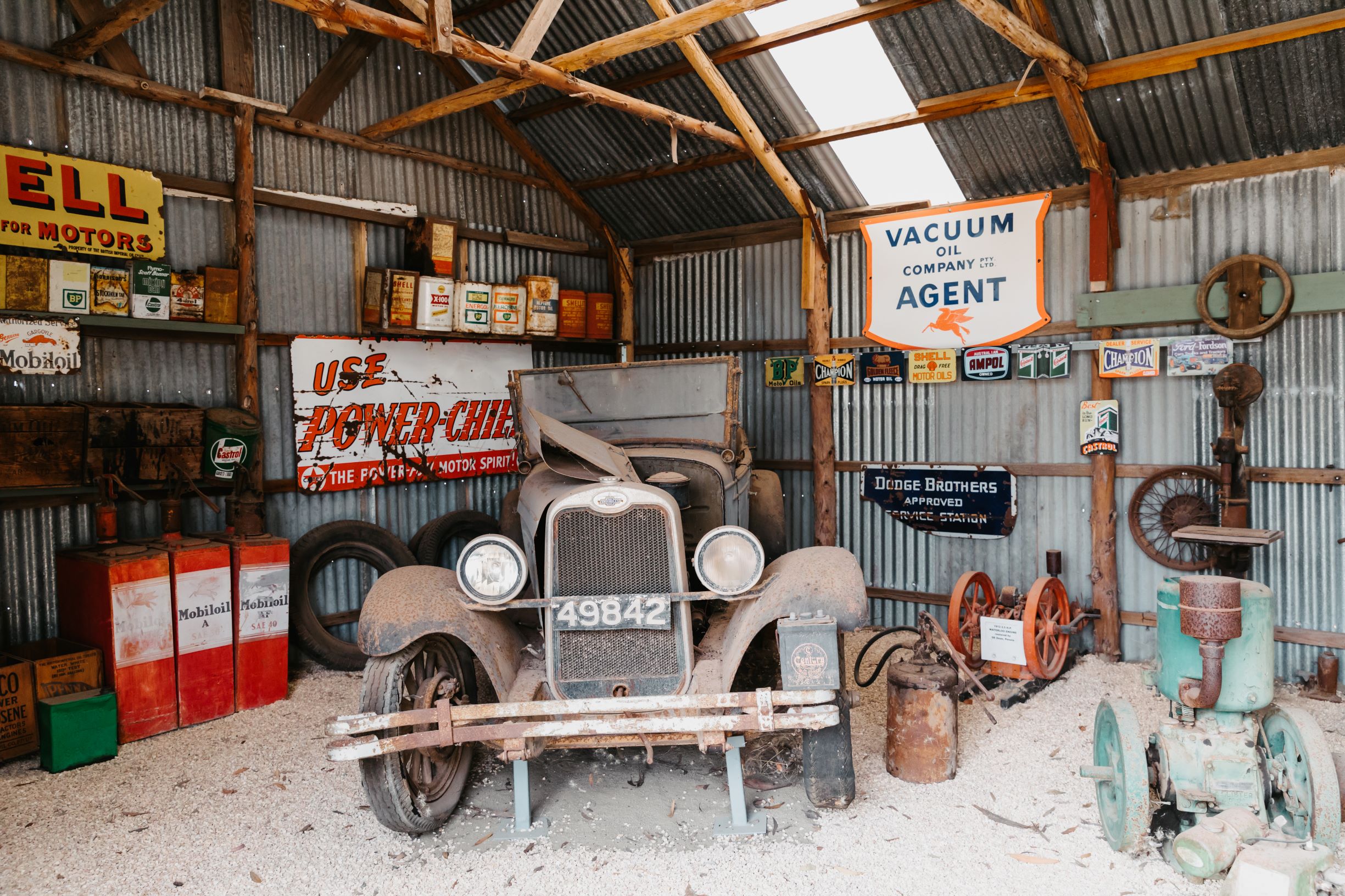 Soon, your experience of Karoonda will be unlike any other you've had before. District Council of Karoonda East Murray's partnership with the Storytowns podcast (coming soon) will allow you to tune in and hear meaningful, immersive stories of the attractions you're seeing while you wander through the town.