(Hint: Alongside the famous Coonalpyn Silos, you'll even see there's a new drinking water fountain with a foot operated in-ground dog bowl incorporated in to the design… oh, and waffles across the road just in case the fur-parents need refreshments too! Above pic courtesy of the Coorong District Council.)
A short detour off the highway will also lead you to a large, fenced dog park at Murray Bridge, where your mutt can run free while you can take a squiz at the footy being played on Johnstone Park oval next door.
Now, there are dog parks and there are DOG PARKS.
For one of the region's best off-leash and enclosed dog play areas, head to the Mannum Oval Dog Park, rated top-notch by website Take the Dog.
With a pocket full of Schmackos, you may even be able to convince your canine athlete to attempt the many pieces of agility equipment there… well, maybe.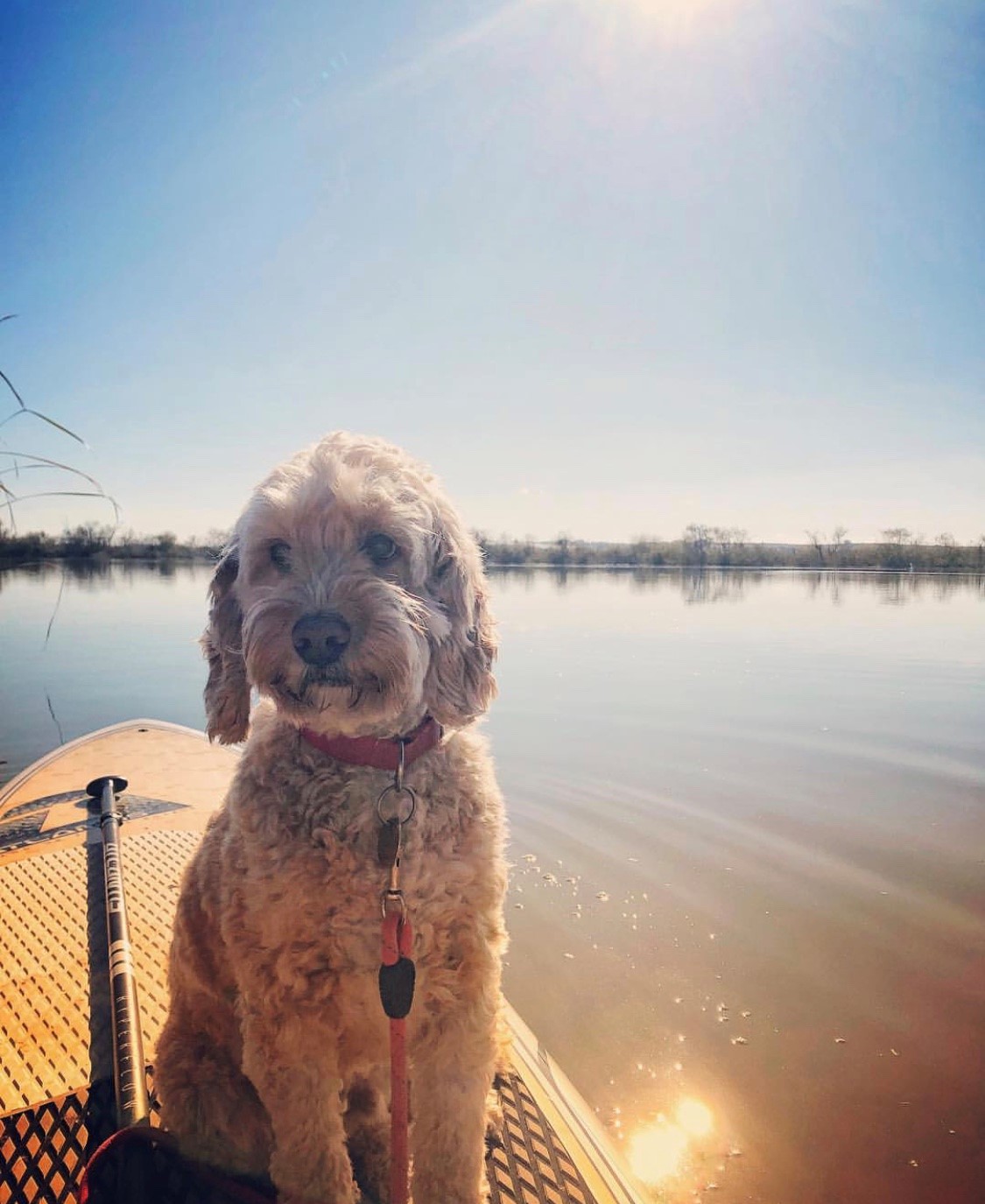 [For Kobe the spoilt spoodle, there's no need to holiday when your backyard looks like this! This adorable Murray River-loving guy heads out on the River, near Murray Bridge's White Sands ski resort regularly, with his owner @kerryn_mundy What a life!]
My dog-loving friends who drive up this way from Adelaide, always mention to me that they like to grab a lead and take pups for a stroll around the many beautiful walking trails in (one of the few dog-friendly conservation parks) Kinchina Conservation Park, the largest area of native vegetation in the Monarto region. Just a quick detour off the highway on the way to Murray Bridge, the park is a great place to stretch your legs, admire some wildflowers and, if you're lucky, spot some rare birds with entertaining names, such as the Diamond Firetail and the Restless Flycatcher.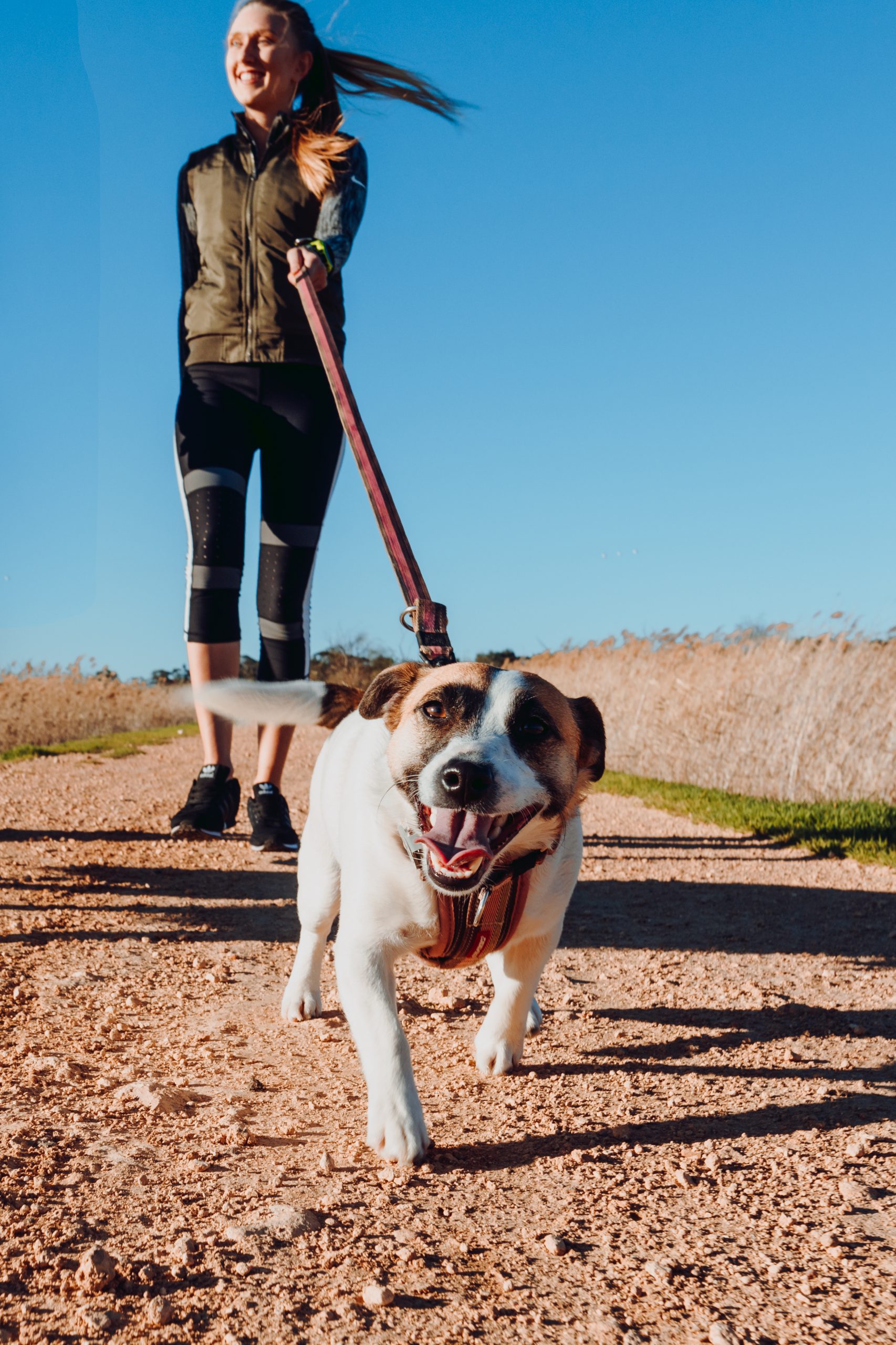 Keep that dog on a leash though! No one wants to lose Fido. Or a Restless Flycatcher.
If a stroll around town is more your style – then just pop that leash on and away you go. We're a region of dog-lovers down here, and there's plenty of beautiful river and lakeside strolls you can take, including the ever-beautiful Sturt Reserve at Murray Bridge and Pelican Path in Meningie. Or if your dog is up for something new, why not take them for a ride across one of our ferries (try Mannum, Swan Reach, Tailem Bend or Wellington).
One thing to remember is to stock up on disposable poo-bags. Although most of our councils supply these for free, there is the odd occasion where you'll find an empty roll and just like those pesky kids, dogs seem to know exactly when to drop a bomb!
Once that road trip comes to an end – you can easily find yourself and your dog (or dogs) somewhere to stay. Here's the good news, our region is filled with pet-friendly caravan parks, hotels and luxury private residences right on the Murray River.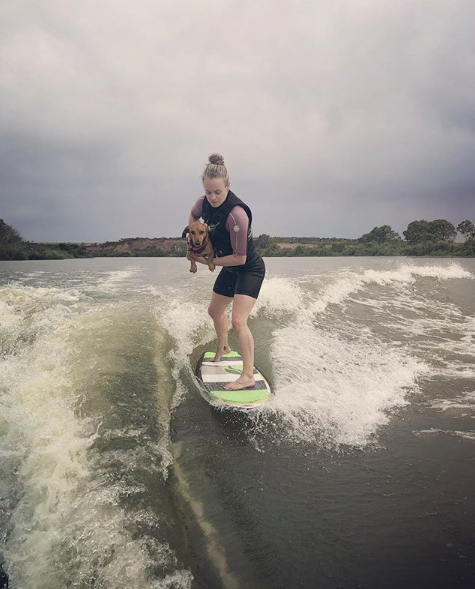 [Pic courtesy of one of our Aussie Olympic divers and dachshund-lover Rachel Bugg taking her little guy for a wakesurf in Mannum – who knew you could get a lifejacket that size! Follow her pooch pics via @littlemissbugg.] 
The Murray Bridge Marina Camping and Caravan Park allows pets in selected residences, plus the Central Olympic Motel have one pet-friendly motel unit and three cottages to offer you and your furry-friend. Those seeking a little extra luxury along the Murray can check out River Shack Rentals, which has around 13 residences on the books that allow pets. Or for something a bit different, check out 'Eleven from the Left' a pet-friendly funky little riverfront shack in Mannum owned by dog-lovers themselves.
If you've got a hankering for a different kind of on-river accommodation, there's even a few houseboats where well-behaved (and small) pups are welcome … take a look at the Magic at Mannum (pictured, below) houseboat to see if this suits you!?